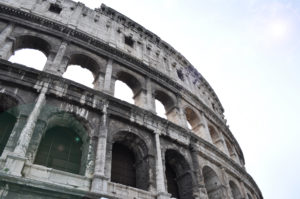 You've budgeted and saved to pay for it, you've squeezed everything you possibly can into two small pieces of luggage; you're impatiently waiting to leave for that international trip you have been dreaming about for so long.  The question of whether or not to purchase travel insurance has come up, but you had already dispatched the idea as soon as you realized that it would cost about as much as your monthly car payment to buy.  Surely, this wasn't a decision you made quickly; you researched "travel insurance" online and found countless articles, blogs and even some travel horror stories about unexpected trip cancellations and baggage losses that were all very compelling.  Despite the research, you've decided to play the numbers, because no one is canceling this trip and statistically you have less than a 1% chance of losing your luggage.
Fast forward a few days and now you're headlong into your international voyage, with your luggage in tow, and marveling at your decision to save a few hundred dollars on travel insurance.  Your marvel is unfortunately interrupted with the belly-rumblings of what will eventually become a serious health condition that requires ongoing hospital attention.    At this point, you aren't concerned with anything other than getting back into the United States for treatment, but you've just learned that you cannot fly on a commercial jet.  You have tried to arrange for a medical evacuation jet but the best price you can find is $250K and they don't take Monopoly money.  So, you're stuck in the middle of no-where, competing with chickens for space on your hospital bed.
While most health insurance plans (at least the ones I sell) have some sort of medical coverage for emergency service outside the country, the coverage is very limited.  And, while medical procedures may be covered by your medical plan; what's left over in coverage for your medical evacuation might be very limited.  A brief survey of group health plans, Medi-Care plans and individual plans found that where foreign travel coverage was included, the benefit was limited to $50K for both the medical expenses and the cost of medical evacuation. In addition, if your health plan is not an international health plan, you would be left to coordinate the services of all of the doctors, hospitals and evacuation providers on your own; which could prove difficult if you are incapacitated yourself.

Travel insurance is expensive, but a very small part of the cost is the medical insurance coverage. If you have decided to go without a traditional travel insurance policy because you don't want to pay for it's costly logistical features, then simply purchase a medical-only plan that works with your United States health plan. For example, it would cost a 37-year-old person traveling out of the country for 2 weeks only $34.20 for $1,000,000 worth of medical coverage. There are lots of different plan options; plans for single trips, multiple trips and even plans which can accommodate you long-term while you hop in and out of the country. If you have any questions, or to obtain a quote; contact us at info@partnersdirectins.com or click here to check out the rates for yourself.
http://www.partnersdirectins.com/wp-content/uploads/2016/03/logo.jpg
0
0
Jacqueline Savidan
http://www.partnersdirectins.com/wp-content/uploads/2016/03/logo.jpg
Jacqueline Savidan
2016-07-06 15:07:05
2016-07-06 15:07:20
Traveling Abroad? Make Sure You Packed Your Insurance Policy.